THE PLAYERS Stadium Course at TPC Sawgrass

Hello friends,
I'm writing this from 35,000 feet high in the sky somewhere between Jacksonville and Chicago. Today we're going to discuss one of the best mornings of my life that transpired hours ago at THE PLAYERS Stadium Course at TPC Sawgrass in Ponte Vedra, Florida. It started early and a little turbulent like what I'm experiencing now but it was a smooth landing and couldn't have worked out better. It was one of those experiences I'll always remember and watching the tournament on television will never be the same.
In case you're curious and not golf fanatics like some of us, THE PLAYERS Stadium Course is one of golf's most famous courses. It is the home of a classic tournament on tour called THE PLAYERS Championship which is considered by many to be the "fifth major". Unlike most tournaments, it's always played at TPC Sawgrass and a stones throw from PGA Tour Headquarters which is literally next door. The Stadium course is difficult but if you keep it in the short stuff and are striking the ball reasonably well, most certainly manageable.
Upon arrival I felt like a kid in a candy store with lots of pep in my step. I was given my rental clubs as I smiled from ear to ear and floated to the practice range only to be quickly deflated. It didn't go so well and I was basically having a simultaneous swing and mental breakdown. This is not great for your confidence before one of the toughest courses out there. I even considered switching my clubs but I had chosen my weapons; it was too late and time to go to war. I had an 8:10AM tee time and we were the first group out for the day…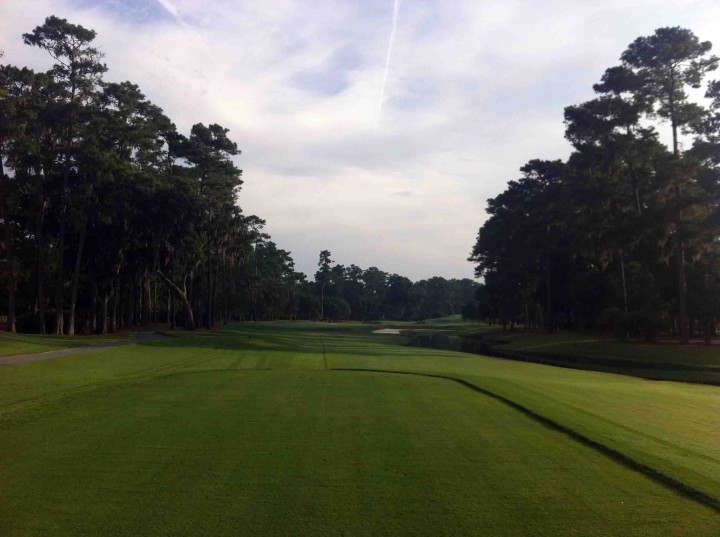 On the first tee(above) I met my group and through speaking with them, I realized I wasn't the only one who was literally shaking on the first shot. We all sort of messed it up and decided a "breakfast ball" was in order. I gave myself a mental pep talk and decided to swing confidently like a distinguished gent of yesteryear (cue inner Henry Flagler) with nothing to lose and everything to gain. The next shot was a rocket with my driver down the middle, success. The subsequent shots went well and I just missed my par. I was +2 after 3 holes when the gent I was sharing a cart with and myself decided to stop keeping score and just soak in the experience.
My putting wasn't hot as I brought ice-block hands despite our caddy Doug having godly green reading skills. We played on and it turned out I couldn't have asked for a better group. Within a few holes we were all joking like we'd known each other for years. I ended up getting a par on holes 2, 8, 14, 16 and a mulligan par on the infamous 17th island green. The day had a bumpy start but ended up being one of the best ball striking rounds of my life, go figure?! That said, when you get in trouble it gets ugly fast.
The course was testing mentally with water coming into play on most holes and I found myself getting all philosophical between shots. In golf, like in life, it really doesn't matter how you start out, it's all about what happens in the middle and how you finish. The saying "it's not how but how many" rang true. I thought it was cool how the 13th teebox was on display from the Sawgrass Marriott and could even see my villa.
Aside from being a challenging and beautifully kept course with fairytale green fairways, just being there felt special. Watching golf tournaments on television is one thing but chipping around the same greens as the greats was a unique feeling all into itself. Tiger Woods let the rest of the field back into this year's tournament when he double bogeyed the 14th, I pared it. Yes, I am aware his hole was 470 instead of 370 but who's counting, right? Also, the 17th isn't really that difficult if you approach it with confidence; just kidding.
If you're a big golf fan and have a decent game, I can't recommend THE PLAYERS Stadium Course at TPC Sawgrass enough. There are also countless other great golf courses along Florida's historic coast which easily adds up to a great golf trip for you and your crew. With its close proximity to beaches, spas and St. Augustine; you could also probably sell it as a family trip despite selfish reasons of just wanting to play TPC Sawgrass…
In closing I'd like to thank TPC Sawgrass, Sawgrass Marriott, Florida's Historic Coast, our caddy Doug and my new friends that I played 19 holes with for a magnificent morning. Today was one I'll never forget and if you ever make it out for a round, I'm sure you won't either.
Tips hat,
P.S: Could have taken photos for days but pace of play is paramount & Mother Nature ordered overcast.