Good day,
So I'm hanging out in Dubrovnik and resting up after what was a crazy road trip from Zagreb to here. Today we're going to talk about a quick stroll I had the pleasure of taking in a city called Sibenik along the Adriatic Coast. This city had more stairs than I dare count and I think we climbed each and everyone of them. It's by the sea so it offers all sorts of beautiful views and well, it's just a cool spot I could have easily spent more time in.
Ok, most of the cities in Dalmatia along the Adriatic coast were supposedly established by Greeks, Illyrians and Romans but not Sibenik;no sir. As it happens, Sibenik was founded by the Croats. That said, recent excavations of Saint Michael's Castle and such have proven that the area was actually inhabited long before the appearance of the Croats. Under its present name it was mentioned for the first time in 1066 and is the oldest native Croatian town on the eastern shores of the Adriatic; indeed.
History is interesting to some but I'm more of here and now type person. The day we got there it was hot and not long after getting out of the van I saw some fishermen sitting under the searing sun with long rods, line and bobbers fishing for what looked like bait fish. This is a personal favorite pass-time of mine; partly that, the stone buildings and the fact I saw some people having a ball in their boat made me warm up to the place in a real hurry.
The whole city is on a hill which is like lots of cities I've visited in Croatia and the narrow lanes don't seem to have much rhyme or reason. You'll have a private residence here, a church there, restaurant over here and the whole mix. Its also home to the Cathedral of St. James which is known as St. Jacob's Cathedral here in Croatia simply because James and Jacob are both pronounced the same in Croatian, who knew? The cathedral is a UNESCO World Heritage Site and the builders most certainly paid lots of attention to detail; it's built in both Gothic and Renaissance styles.
I could have easily spent a night there and longer if I had my fishing gear and friends to hang out with. If you do go and have more time, they have a great white sand beach near town which is just ever so slightly removed so you're still technically in town sort of but most certainly not in the city if that makes sense?  I think it's worth seeing if you're driving through the area and at the very least, makes for a memorable stop when driving between Zadar and Split. This photo is a sample of some of the scenery you'll see on that drive.
That said, it's also only 18 km from Krka National Park which has the widest waterfalls in Europe! The park is 10,000 square km and basically has something for everyone who likes the great outdoors. I'd go on about my experience there which was solid but that's for another day. If you are doing a road trip through Croatia and coming this way, go straight to Krka National Park and spend a day hiking and playing in the waterfalls before retiring to Sibenik. Wake up early and stroll the streets ahead of the hot sun before loading back into the car and heading to Split or Zadar depending on the direction you're driving; that's a plan a half right there…
Below are a host of other photos to give you a further idea of what it's all about.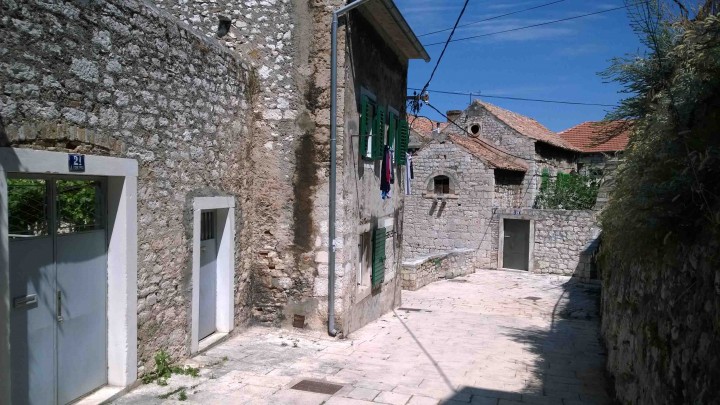 Tips hat,
P.S: Got Kids? Sibenik hosts the only International Children's Festival…