Skiing Kicking Horse Resort in Golden, British Columbia
Greetings from Golden,
I've had a lot of good days on this crazy trip around the world but today was just bliss. Skiing Kicking Horse Resort aka the "Champagne Capital of Canada" in Golden, British Columbia was awesome; living up to the hype AND MORE. The scenery from the peaks is just unreal and the mountain is the 4th longest vertical of any resort in North America. The snow was awesome and the terrain was endless. It's the type of resort where you literally ride all day and maybe get in 4-5 runs, seriously…

I woke up early and met a distinguished gent named Andy who filled me in and I got fitted for some skis. I had the Head Rev 90's and they are phenomenal all mountain skis, loved them. Shortly after I met a lady named Row who was my guide for the day; not long after that we were on the gondola. It was quite the sight going up in the morning, the base was in a fog and once you got above the clouds it was open as far as the eye could see. We immediately hit up the Crystal Bowl which was just awe inspiring.

We went through lots of glades and cruised for a while. There was a trail called Bugablue where we found some powder and I got my first real taste. When you're in the deep stuff you can just point your skis down the hill and it's like steering a ship, slow and smooth. Quite the difference from skiing chopped up moguls which are what I'm used to seeing in most glades as it's the way things are out east unless you hit a crazy powder day.

Here are some random facts about Kicking Horse that I think you should know. The total vertical of the resort is 1,260 meters and it's located in the Dog Tooth range of the Purcell Mountains. That said, it's right on the edge of the Rockies and offers stellar views of that mountain range. On a clear day, you can see 5 different National Parks and Eagle's Eye which is located near the gondola is the highest restaurant in Canada and the views are phenomenal. The mountain gets an average of 7.5 meters of snow a year and has a total elevation of 2,450 meters from the top. The resort is situated on 2800+ acres and 120+ runs, huh? I only scratched the surface…

We had lunch at Eagle's Eye Restaurant and I tried their "Super Bowl" which is a great seafood dish before venturing into the Super Bowl which is a bowl you can reach after a short trek from the gondola and you use the trail in the top photo. That bowl was the craziest skiing I've ever done, it's so steep you need to do jump turns and if you're not an experienced skier, good luck. From there we just cruised through all sorts of terrain until we were back near the bottom. For those feeling a little more extreme, the top peak is appropriately called "Stairway to Heaven" and naturally, I passed as I know my limits.

Suffice to say, I'm still in shock that I got to experience this mountain. It's unlike anything I've ever done and even told Row, my guide on one of the chairs that I was getting chills. You can see beautiful beaches around the world but there are few things as majestic as experiencing a magnificent mountain that is well maintained and mammoth in size. It was unreal and kind of like a sensory overload but in the best way possible.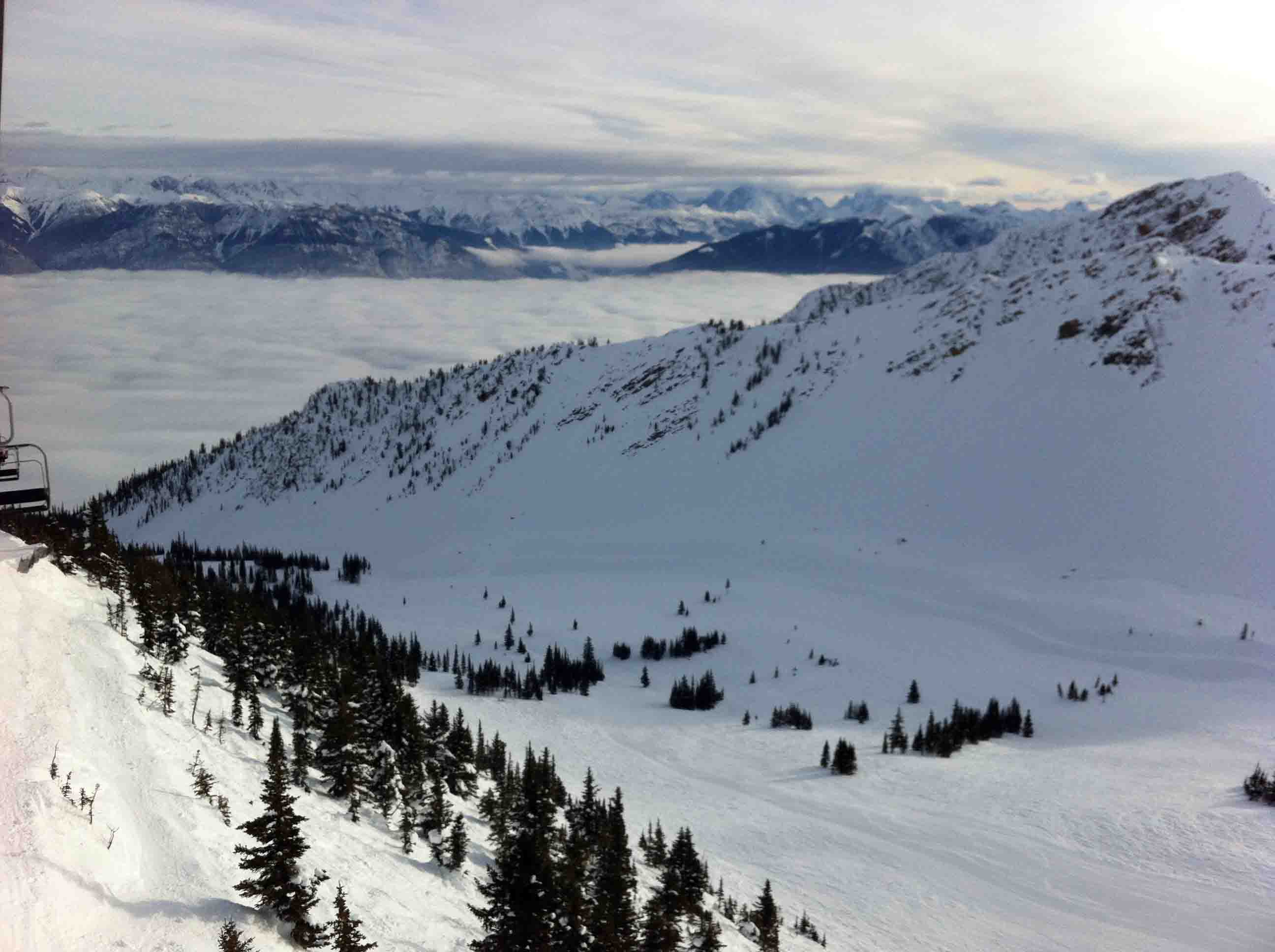 Now I'm hanging out in my condo in the Glacier Mountaineer Lodge and about to wrap this up. After it's time to head to Peak's Grill for some dinner and drinks. I went last night and I was taken aback by how good the food was and reasonably priced. Often times, resorts sell you cafeteria food at fine dining prices, this was the opposite. In fact, Eagle's Eye Restaurant was also really reasonable and if you're making a day of it, have lunch there because the views alone are worth the price of your meal, seriously.

Huge thanks to Kicking Horse Mountain, Resorts of the Canadian Rockies and Tourism British Columbia for making this possible.
Tips hat,