Ireland Itinerary: 10 Day Road Trip Destinations NOT to be Missed
Experiencing an exciting 10 day Ireland itinerary is something many tourists dream of. It's not only for the flowing Guinness beer or mouth-watering fish and chips. Ireland is a culture-packed country has so much to offer. You're sure to have a memorable experience no matter what your travel expectations are. 
Many things make Ireland a go-to travel destination. One is the ability to hop in the car and take a road trip throughout the country. It is easy to rent a car in Ireland and go on an epic road trip through the green hills. Following a 10 day road trip itinerary will let you experience ancient castles from the passenger seat. 
For any travelers interested in taking a fulfilling Irish road trip, your best bet is to start in the capital city of Dublin. From there we have mapped out the ideal 10-day itinerary to make the most of a week in Ireland. Keep reading to see what days 1 to 10 have in store for you in this comprehensive Irish road trip itinerary. 

Before you go, did you apply apply for your international driver's license?
Ireland Itinerary: 10-Day Road Trip
Days 1 & 2: Explore everything that Dublin has to offer
It wouldn't make sense to fly into Dublin and leave right away without exploring this fun city. As the country's largest city and capital, you'll be able to stay busy in Dublin for 2 solid days. Chances are you'll want to stay even longer, but 2 days should give you a good taste of what Dublin is all about. 
Day 1 in Dublin
When you're renting a car in Dublin, our advice is to avoid car rental agencies at the airport. Renting from the airport is much more expensive than renting in the city center. There are plenty of buses, taxis, and ubers to grab from the airport to get you to the city center. 
Depending on what time you arrive and how exhausted you are from your travel day (or days), you can opt for a bus tour with a guide on your first day in the city. The Hop-On Hop-Off bus offers an amazing tour that loops around all of Dublin. If you're too tired, just take it easy to recover from jetlag or go for a brief photo walk around the city.
Day 2 in Dublin
Whether you're into golf or not, it would be a shame to miss out on the stunning golf courses around Dublin. The scenery surrounding the fairways is enough to make you want to pick up a 9-iron for the first time. Spend the morning of Day 2 at one of these popular golf courses in and near Dublin:
Portmarnock Golf Club
The Golf Course at Luttrellstown Castle Resort
Silloge Park Golf Club
Castle Golf Club
Milltown Golf Club
After your fix of fresh air we recommend checking out the Guinness Storehouse. A trip to Dublin wouldn't be complete without exploring the Guinness facilities. If you don't like drinking this stout at home, this doesn't mean you won't like it in Ireland. Travellers from around the world claim that Guinness tastes much better in its home country. 
If you're not ready to call it quits after the Guinness tour, head to the Temple Bar pub district. The iconic Temple Bar is a favorite spot for first-time Dublin visitors, but there are plenty of pubs in the area to choose from. Don't leave Dublin without touring Trinity College, one of the oldest colleges in Europe.  
Day 3: Drive to Waterford
If you're not tempted to stay in Dublin for the rest of your trip, it's time to hop in the car and buckle up. Driving south to Waterford will take about 3 hours, but you can stop in Wicklow Mountains National Park to stretch your legs. Here you'll find the ancient town of Glendalough which is an ideal stop for both history lovers and nature enthusiasts. 
After an hour or two in Glendalough make the short drive to Waterford. It is the oldest city in the country and a usual stop on an Ireland itinerary. It's also home to the Waterford Crystal Factory. You can take a tour through the factory to see how the crystal is made. After that head to the city center to see the historic Reginald's Tower from the 13th century. 
Day 4: Head northwest to the Rock of Cashel then south to Cobh
On the morning of the fourth day you should head northwest to the Rock of Cashel. It is less than a 2-hour drive from Waterford; you might see it as an unnecessary detour but it will definitely be worth your time. These hilltop structures used to serve as home to the Kings of Munster. Even though they're mostly ruins now the architecture will still impress you. 
After exploring the Rock of Cashel for an hour or two, you'll be ready to move on to Cobh. Cobh is a quaint seaside town that is full of life and color. Be sure to grab a bite to eat along the harbour for views of the sunset at the end of Day 4. 
Day 5: See more of Cobh before driving to Blarney Castle
Before you leave Cobh on Day 5, you'll have time to walk around town and get a feel for the area. You might not know that the port here was where the Titanic last stopped before making its fateful journey across the Atlantic. There were 123 passengers that boarded the ship in Cobh; you can learn about their stories at the Titanic Experience museum. 
After your morning adventure through Cobh, it is time to head west to Killarney. You can either drive straight there or make a quick stop at Blarney Castle. Here you'll find the infamous Blarney Stone and get the chance to explore the castle grounds.  No Ireland itinerary is complete without a trip to visit the Blarney Stone.
The story behind the Blarney Stone goes back hundreds of years and is thought to give the "gift of eloquence" to those who kiss it. Kissing the stone isn't for the faint of heart; it involves bending over backwards in order to reach it. If you're not up for that, there is plenty to keep you busy at Blarney before driving the rest of the way to Killarney for the evening.
Day 6: Explore Killarney
There are a few options for Day 6 during your time in Killarney, it really depends on what you like to do. We recommend checking out Killarney National Park where you can take a tour of yet another ancient structure, Ross Castle. The national park is actually the first stop on the Ring of Kerry route that we'll talk about next. 
If you're okay with the idea of a lot of tourists and possible crowds, drive to the Ring of Kerry. It is a famous Irish driving route for a reason, but this means a lot of people know about it. The route actually goes in a loop along the seaside starting in Killarney and ending there as well. Along the way you'll see coastal cliff sides, sandy beaches, and lush forests.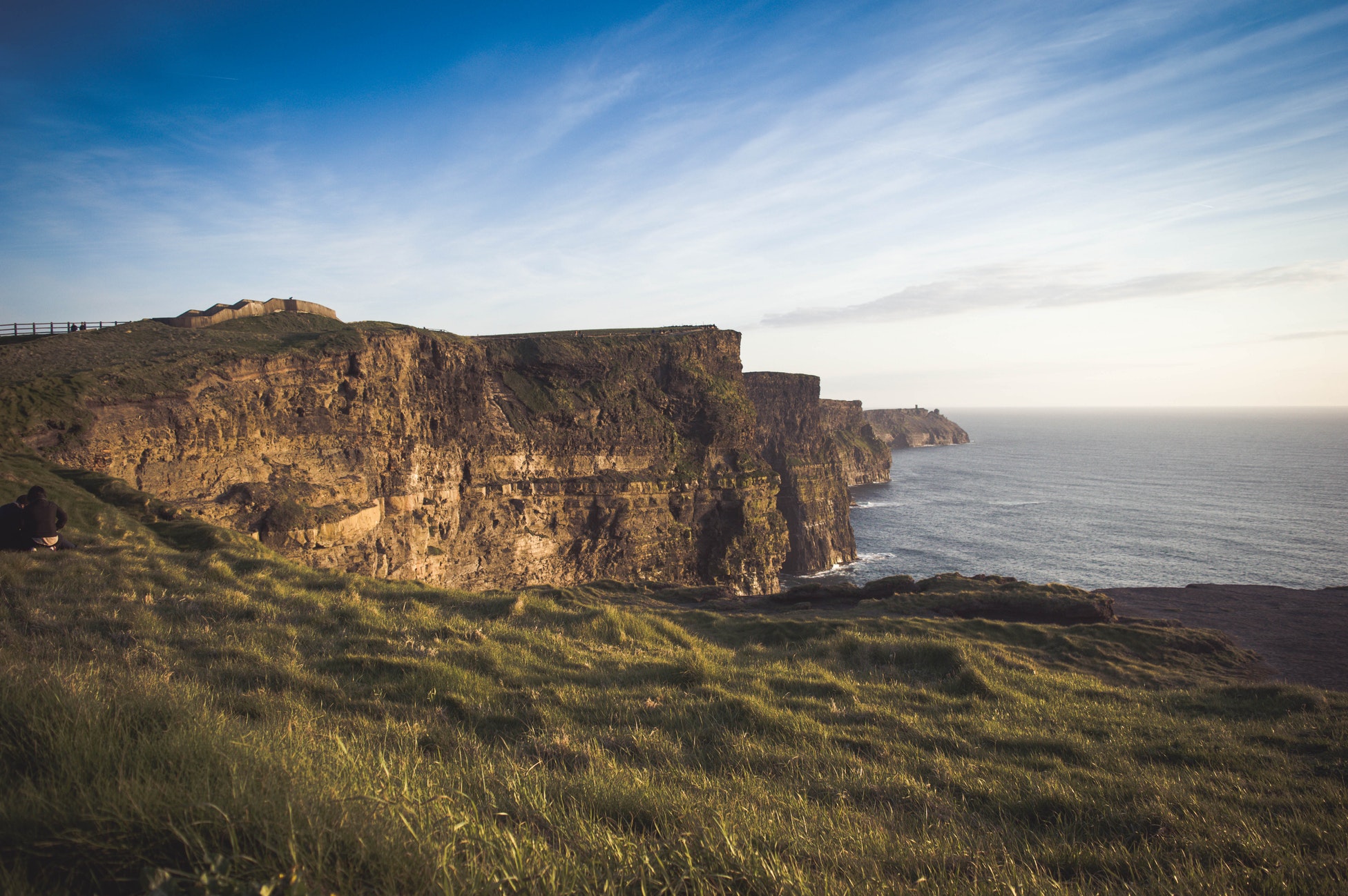 Day 7: Cliffs of Moher
A trip to Ireland would not be complete without a stop to the Cliffs of Moher. Getting here is a bit of a drive from Killarney, so plan on hitting the road early. These seaside cliffs are a sight to see especially when the weather is warm. Bring your raincoat even if sun is in the forecast; when you stand near the cliffs you'll definitely get some backsplash from the crashing waves. You know that this is included in the best places to visit on the west coast of Ireland, how could it not be? It's epic! 
Day 8: Drive north along the coast to Galway
You might choose to make a few stops along the way from Moher to Galway, but if you're crunched for time you might want to head straight there. Even though Dublin is the official capital, a lot of travellers refer to Galway as the "cultural capital" of Ireland.  This is always a staple in any Ireland itinerary. Grants access to the Cliffs of Moher,  the Aran Islands and a great place to have a pint.
There are tons of shops, pubs, restaurants, and live performances on the city streets. It offers everything that you can find in Dublin, just at a smaller scale. During your drive to Galway, listening to the popular Ed Sheeran hit "Galway Girl" is a must. 
Day 9: Spend the day in Galway or make a trip to Aran Islands
If you haven't had enough of Galway yet, feel free to spend an extra day here. Another option is to head to Aran Islands for the day. These islands will give you a true taste of Irish culture and traditions. The main island – Inis Mor – isn't as lively and busy as the mainland so it is a relaxing ending spot for your Irish getaway. You'll be able to explore the medieval ruins of Iron Age Fort or just chill by the seaside. 
Depending on when your returning flight home is, you might opt to drive back to Dublin the evening of Day 9. Most international flights will depart from Dublin, so chances are you'll have to get there at some point. 
Day 10: Fly home from Dublin
Sadly your comprehensive Irleand itinerary has to end at some point. We feel that at least a 10 day itinerary is essential for seeing all that Ireland has to offer. As you can see from this jam-packed itinerary, the best way to do it is by road tripping through the countryside and along the coast. There is no better way to end the trip than see the impressive castles or pub crawl through Dublin.